Professor Kathy Walsh is a member of the Finance Department in the UTS Business School at the University of Technology Sydney.  Her research focuses on the development of China's financial markets and the impact that will have on Australia.  She has written a number of reports on the internationalisation of the renminbi and its potential as a medium for trade, investments and reserves.   Professor Walsh's research is highly regarded internationally and she has attracted substantial research grant funding.  She has prior academic positions at the Australian National University, the University of Sydney and UNSW and industry experience in insurance and financial planning.
Professor Spencer Martin completed his PhD at the Wharton School, University of Pennsylvania.   He worked at Carnegie Mellon University before joining the Department of Finance in the Faculty of Business at the University of Melbourne in 2009.  Spencer's research interests include investments, empirical asset pricing, and behavioral finance. He has published widely in professional journals as well as in internationally reviewed top tier academic journals including the Journal of Financial Economics, Review of Financial Studies, Journal of Portfolio Management and Journal of Finance.
Dr Victoria Clout is a Senior Lecturer in the School of Accounting at the UNSW Business School. Before joining UNSW Victoria was an Assistant Professor at University of Western Australia (2009-2011), a lecturer at Curtin Business School (2008) and at the University of Queensland (2006-2007). Victoria undertook her PhD at Queensland University of Technology where she was nominated for an Outstanding Thesis Award. Victoria's research interests cover corporate governance, value relevance, valuation and capital markets. Victoria's current teaching interests lie in the area of financial accounting, corporate accounting, financial accounting theory and financial statement analysis.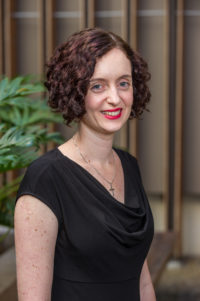 Jacquie Humphery
Vice President (Women)
Associate Professor Jacquelyn Humphrey is co-leader of the interdisciplinary Business Sustainability Initiative: Building Resilience and Adapting to Change at UQ Business School, University of Queensland. Jacquelyn's main research interest is in how environmental, social and governance factors  impact on investment decision-making for investors and corporations. She also has a research interest in funds management.
Professor Ellie Chapple holds the position of Professor of Accounting at QUT Business School, where she is the research leader in Forensic Accounting and the chief investigator in the research program Accounting For Social Change. Ellie is a member of AFAANZ, member of the Corporate Law Teachers Association and Legal practitioner admitted to the Supreme Court of Queensland.
Professor David Michayluk
obtained his Ph.D. at Louisiana State University. He is the co-founder and past editor of the
International Journal of Managerial Finance
. Before joining UTS, David was  at UNSW and the University of Rhode Island. He has taught at a number of institutions including the University of Saskatchewan, the University of Adelaide's Singapore program and Bond University's South Africa program. David has a broad range of interests including corporate finance, market microstructure, behavioural finance and related areas. His current projects include improving the representation of risk, measuring financial literacy and risk, examining superannuation decision-making and identifying the perceived drivers of value of financial planners.